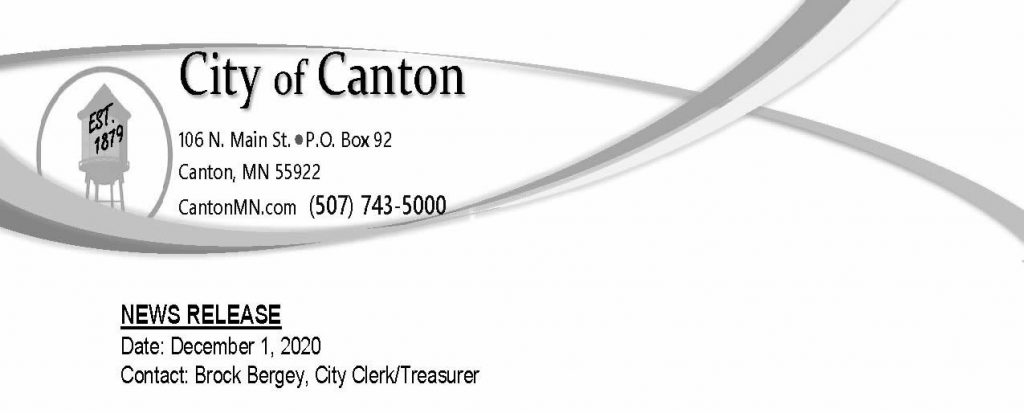 12 terms and 24 years later, Mayor Donivee Johnson will preside over her final Canton City Council meeting on December 9, 2020. Johnson, a Canton native, assumed the role of mayor on January 1, 1996. She previously served a stint on the city council – appointed to fill a vacancy in July 1994.
"The 21st Century was soon upon us and I thought we could do better," Johnson recalled.
The 1966 graduate of Canton High School – the final Canton graduating class before the consolidation with Mabel – grew up watching both of her parents being involved in the community. In fact, her father, Ronald Ramlo, served as Canton's mayor in the 1950s and 60s.
"I'm not so sure this could be called a Ramlo family tradition, but several of us have certainly dedicated a lot of ourselves to serving the public," she said.
When Johnson added the title of mayor, Canton had a failing wastewater treatment plant. She helped lay the groundwork to secure funding for construction of a new $1.6 million facility. The new plant was completed in 2004.
"We were awarded a very generous grant and a low-interest loan to pay for the project," Johnson stated – adding that her father was mayor when Canton's first wastewater treatment plant was built.
Other notable projects under her tenure, according to Johnson, include a $400,000 housing grant to rehabilitate 20 homes in Canton, and a major renovation to the Canton Town Hall – which was largely funded through a bequest from a former Canton resident.
"By saving the interest on his money we were able to put a new foundation under the building, construct a new addition, and install siding and roofing," she explained. "Costs to the taxpayers were minimal. I hope future councils will be good stewards of this man's gift to his hometown."
Moving forward, Johnson's advice to the citizens of Canton is to be involved and informed when it comes to their local government.
"Know the issues that the council has to make decisions about on your behalf," she encouraged.
Even though she will no longer conduct the monthly city council meetings, Johnson said after nearly three decades in city government her interest isn't going to fade away.
"I will always be interested in what's happening in Canton," Johnson concluded. "I will continue attending council meetings as a means of keeping myself up-to-date with current affairs."
Canton Mayor-elect Nicholas Prestby will be sworn in to office on January 13, 2021.