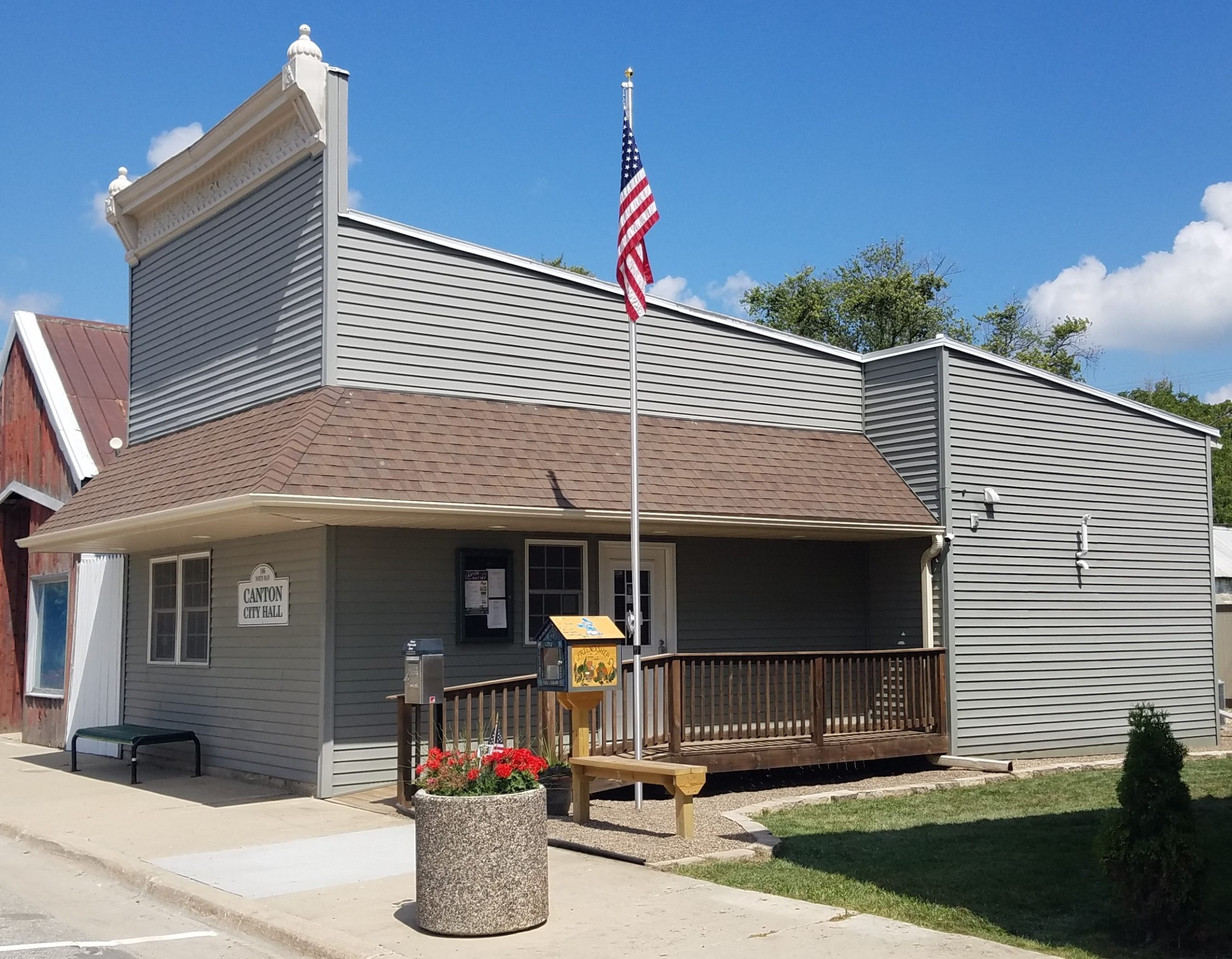 Canton City Hall
Street Address: 106 North Main Street
Mailing Address: P.O. Box 92
Canton, MN 55922
Phone: (507) 743-5000
Email: clerk@cantonmn.com
City Hall Hours
Monday-Thursday 7:30–11:30 a.m. & 12–2 p.m.
Friday 8 a.m. – 12 p.m.
The City of Canton is a statutory city organized under the laws of the State of Minnesota. Canton was incorporated as a village in 1879 by an act of the State Legislature. Canton is governed by a mayor, who serves a two-year term; and four councilmembers, who serve four-year terms.  All members are elected at-large and serve the entire population of the city. An appointed clerk/treasurer oversees city administration and business functions; however, the position does not have a vote on the council. Likewise, an appointed public works director manages the city's public utilities and maintenance departments. Elected officials and city staff work together to provide the best possible quality of life for the citizens of Canton while being good stewards of tax dollars.
---
Elected Officials
---
City Staff
The Canton City Council generally meets in regular session the second Wednesday of the month.
Meetings take place at Canton Town Hall, located at 107 N. Ash Street. The public is encouraged to attend and may offer feedback during the public comments portion of the agenda. Other requests for agenda items must be received at least one week in advance of the scheduled meeting date. Contact the city clerk for additional information.
Canton City Ordinances
Click on the title of each chapter to open the document.



31. Departments, Boards and Commissions
32. Emergency Management


51. Sewer Regulations
52. Water Regulations
53. Storm Water Drainage Utility
54. Rates and Charges


71. Parking Regulations
72. Snowmobiles
73. Recreational and Other Vehicles
74. Bicycles, Roller Blades, Roller Skates, Roller Skis and Skateboards


91. Animals
92. Health and Safety; Nuisances
93. Streets and Sidewalks
111. Commercial Amusements
112. Liquor Regulations
113. Peddlers and Solicitors
114. Reserved
115. Reserved
116. Regulating Lawful Gambling
117. Garage and Rummage Sales
118. Regulation of Public Dances and Special Events
119. Sexually Oriented Businesses –
119 Appendix
151. Zoning
152. Subdivision Control
153. Anti-Blight Regulations
References to Minnesota Statutes
References to Minnesota Rules
Affidavit of Publication for Ordinance Enacting the Code of Ordinances for the City of Canton