Living in Canton
The small town flavor of Canton is hard to beat. Affordable housing, proximity to larger cities that offer various employment opportunities, and easy access to a major highway are especially appealing to young families looking to escape the so-called "big city."
From the start, education and religion have played an important role in community life. Mabel-Canton Public Schools are regionally known for high student achievement, with a low teacher-student ratio. The Church of the Assumption, Canton-Scotland Presbyterian Church, Henrytown Lutheran Church, and Lenora United Methodist Church meet the spiritual needs of the area.
Canton is also deeply rooted in civic pride. The Canton American Legion, Canton Community Association, and Canton Historical Society play essential roles in community growth and development. Many Canton citizens are known for their volunteerism and commitment to giving back.
The City of Canton maintains a public park and playground, located near the fire hall. Appropriately named Main Street Park, modern playground equipment and a picnic shelter offer a family-friendly environment for outdoor leisure. With financial assistance from the Canton American Legion, residents also have access to a softball field for day or nighttime use. While Canton no longer has a public library, little free libraries are popping up around town and have become popular among residents of all ages.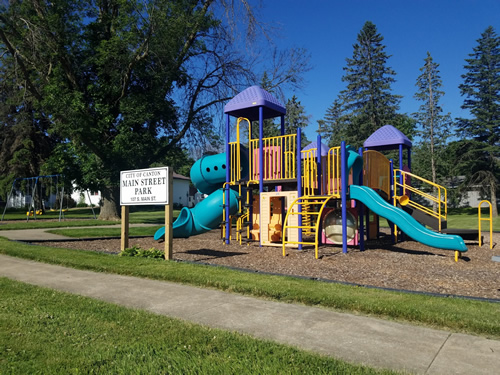 We invite you to learn more about our community and find out why Canton is a great place to call home.
Mabel-Canton Public Schools
Independent School District #238 was established in 1966, when the Mabel and Canton districts consolidated to form Mabel-Canton, commonly referred to as M-C. Today, all pre-K through 12th grade students attend classes in Mabel. The Canton school facility was closed in 1999. Current elementary and secondary enrollment totals nearly 300 students, with a student-teacher ratio of 14 to 1. In 2022, US News & World Report ranked Mabel-Canton High School #4, in the Rochester Metro Area, for student performance on state-required tests, graduation, and college preparation. M-C's rank was the highest among all Fillmore County high schools. In addition to excellence in the classroom, the Cougars find success in several athletics and extracurricular activities.
Contact Information :
Gary Kuphal, Superintendent
Michelle Weidemann, Principal
316 West Fillmore Avenue
Mabel, MN 55954
(507) 493-5422
www.mabelcanton.k12.mn.us

---
Assumption Catholic Church
Canton's Church of the Assumption got its start in 1888, with the original church built one year later. The present-day church was dedicated on August 15, 1969. Today, Assumption is part of the Holy Family Cluster, which includes six Fillmore County parishes in the Diocese of Winona-Rochester. Church of the Assumption holds weekly mass at 9 a.m. on Fridays and Saturday Vigil at 5 p.m.
Fr. Edward McGrath
303 West Canton Avenue
Canton, MN 55922
Assumption Hall: (507) 743-8320
Parish Office: (507) 867-3922
www.holyfamilyclustermn.org
---
Canton-Scotland Presbyterian Church
Canton-Scotland Presbyterian Church is a PCUSA-affiliated congregation, with 60 friendly and welcoming members. Twelve charter members organized the First Presbyterian Church in 1884. Shortly after, construction started on a $1,680 church, with the building dedicated in 1885. Numerous improvements have been made over the years, including the 1958 installation of stained glass windows depicting the life of Christ. The Scotland name reference comes from the rural Richland Prairie Presbyterian Church, built in 1868 in Preston Township. It was called Richland Prairie because the natural terrain reminded the settlers of their native Scotland. In 1893, First Presbyterian and Richland Prairie began sharing a pastor. That partnership continued until the merger of the two congregation to form the present-day Canton-Scotland community of faith. Sunday worship is at 9 a.m.
Rev. Kate Rupert
104 West Fillmore Avenue
PO Box 136
Canton, MN 55922
(507) 743-2260
Facebook Page
---
Henrytown Lutheran Church
Located three miles north of Canton, Henrytown Lutheran Church is part of the Southeastern Minnesota Synod of the ELCA (Evangelical Lutheran Church in America). The Norwegian Lutheran church was organized by 26 families in 1870, with the original church building dedicated in 1879. Norwegian was the language of the church until the 1920s. In addition to the adaptation of English, several physical improvements took place over the next 135 years making Henrytown a beautiful and well-preserved country church for worship and fellowship. In the spring of 2015, fire destroyed the historic church; however, the faithful congregation of nearly 200 rallied together and rebuilt on the same site. The modern-era church was dedicated in 2017. Henrytown has an active Sunday School and women's group (WELCA). Sunday School is offered September through April for grades pre-K through eight, with classes Sunday mornings at 9:15. Sunday worship services begin at 10:30 a.m.
Rev. Dean Aponte-Safe
36190 County 18
PO Box 103
Canton, MN 55922
(507) 886-2425
Facebook Page
---
Lenora United Methodist Church
Situated in the tiny rural village of Lenora, four miles northeast of Canton, the Lenora United Methodist Church was the first church built in Fillmore County. Begun in 1856, rebuilt in 1865, the doors of the historic stone church are open again for Christian ministry, with special worship services held throughout the year. The church is a popular tourist attraction in the area.
Rev. Mark Woodward
38571 Dovetail Road
Canton, MN 55922
(507) 346-2830
Facebook Page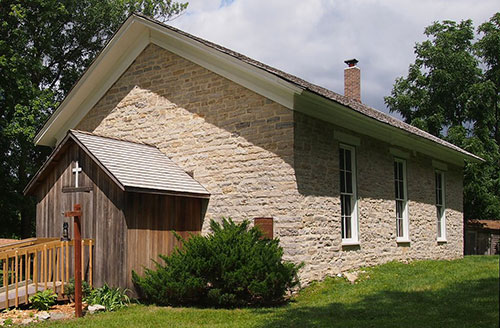 ---
Canton American Legion Post 400
The Canton American Legion Post 400 was organized in 1919, after the end of World War I, with 15 charter members. The post was named in honor of Paul H. Blegan, who was the first World War I soldier from Canton to die in combat.
Nick Prestby, Commander
206 North Main Street
Canton, MN 55922
Facebook Page
---
Canton Community Association
The Canton Community Association promotes, organizes and conducts Canton community celebrations and other activities designed to enhance and promote the residents of Canton and the surrounding vicinity.
Key activities include:
• Canton Day Off: Third weekend in August
• Canton Santa Day: Second Saturday in December
• Weekly bar bingo at ZZ Tap
• Special holiday bar bingos
• Halloween Trunk-or-Treat
• Promoting Canton in area community parades
• Purchasing a new electronic sign to advertise local activities
Donations welcomed.
Facebook Page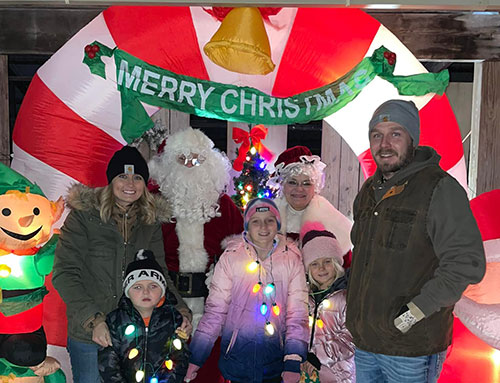 ---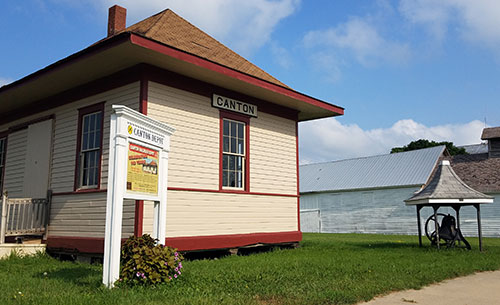 Canton Historical Society
The Canton Historical Society oversees the operations of the Mitson Museum and is spearheading the ongoing efforts to restore Canton's historic train depot. The group meets the last Thursday of the month, April through October, at 5:30 p.m. in the basement of the Presbyterian church. New members are always welcome.
Dorothy Coons, President
PO Box 15
Canton, MN 55922
(507) 743-8247