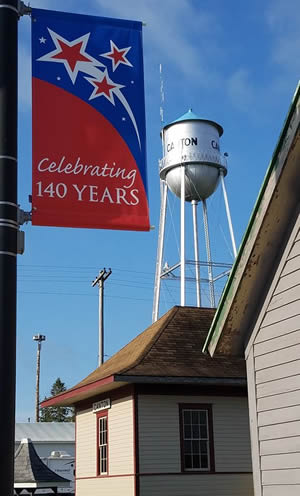 Canton Public Utilities
Contact:
Jon Nordsving, Public Works Director
cantonwwtf@acegroup.cc
City Hall
Street Address: 106 North Main Street
Mailing Address: P.O. Box 92
Canton, MN 55922
Phone: (507) 743-5000
City Hall Hours: Tuesday-Friday 7:30 a.m. – 2 p.m.
Utility Payments

With online payments, pay by credit card, debit card or E-check. Additional fees apply. Please note: Online payments will be applied to utility accounts unless otherwise specified for other city services (citations, fees, permits) in the comments section.
Check and Money Orders
Mailed to the City of Canton or deposited in the exterior drop box at City Hall.
Cash Payments
Accepted at City Hall during office hours.
Payments due upon receipt.
---
Canton Public Utilities – Water & Wastewater
Canton Public Utilities include the water and wastewater systems within the City of Canton.
Rates are established and reviewed by the Canton City Council. The present rate structure began in October 2017. Public Works Director, Jon Nordsving, has been with the City of Canton since 2003.
Water
| | |
| --- | --- |
| Metered Residential Rates | |
| Monthly Service Charge | $12.50 |
| Per Gallons Used | $0.003 |
| Metered Commercial Rates | |
| Monthly Service Charge | $14.50 |
| Per Gallons Used | $0.003 |
| Monthly System Upgrade Fee | $5.00 |
Sewer
| | |
| --- | --- |
| Metered Residential Rates | |
| Monthly Service Charge | $33.00 |
| Per Gallons Used | $0.0024 |
| Metered Commercial Rates | |
| Monthly Service Charge | $38.00 |
| Per Gallons Used | $0.0024 |
Weekly garbage and recycling collection services are contracted through Richard's Sanitation of Caledonia.
The City of Canton oversees customer billing for these services. Garbage and recycling are both collected every Wednesday. Acceptable refuse and recyclables must be confined within city-issued containers. No loose materials will be collected. Containers should be placed curbside by 6:30 a.m. to ensure collection. Once collected, all containers must be removed from the curb.
Garbage & Recycling Rates
| | |
| --- | --- |
| Small Tote (32 Gallons) | $10.49/month +$3.85 recycling fee |
| Medium Tote (64 Gallons) | $11.97/month +$3.85 recycling fee |
| Large Tote (96 Gallons) | $13.44/month +$3.85 recycling fee |
---
City of Canton Acceptable Recyclable Materials
Please note: All items must be clear of any product.
Download and print this list.
Plastics Examples
Milk jugs
Pop bottles
Shampoo bottles
Water bottles
Detergent bottles
Motor oil bottles
Cardboard/Paper Examples
Any type of corrugated boxes
Cereal boxes (plastic inserts removed)
Soda boxes and beer cartons
Mail and envelopes
Magazine and catalogs
Phone books
Pizza box covers
Egg cartons
Paperback books
Tin and Aluminum Examples
Aluminum and tin cans
Aluminum foil and pie plates
Empty aerosol cans
Pop cans
Glass Jars and Bottles
Any clear or colored jars and bottles
Frequently Asked Questions
When should I expect my bill? Your bill should arrive on or just before the first of the month. This can vary slightly due to weekends, holidays and staff scheduling. If your bill doesn't arrive after the first week of the month, please contact city hall.
What service dates does a bill reflect? Your bill reflects services used in the previous month. For example, this bill represents your December services.
What does total due represent? As stated at the top of your bill, you receive a monthly invoice. The total due is what you owe for services in the billing period. Your account balance is not stated on an invoice. It is your responsibility to know the status of your account. We will provide you with a statement at your request.
When were the current rates set? The present utility rate structure began in October 2017. These rates are expected to continue in 2020.
What is the $5.00 Water Delivery System Upgrade fee? The city council added this monthly service charge to all residential and commercial water accounts in2014. It provides additional revenue to support the increasing costs of maintaining a quality public water system.
What is considered average water use? The answer to this question varies based on your household habits and the number people in your home. According to the Environmental Protection Agency, the average American family uses more than 300 gallons of water a day. About one-quarter of that daily water use comes from toilets.
When is my bill due? Bills are due upon receipt. An unpaid invoice becomes delinquent upon a new invoice being issued. At that point, the city will deliver a disconnection notice for past-due payment. Partial payments will not prevent a disconnect.
What happens if my water service is disconnected? Accounts must be paid in full for service to be reconnected. There is also a $75 reconnection fee. Reconnects will only occur during business hours.
What if I fall on hard times and cannot make a timely payment? Contact city hall when you receive your monthly bill. We are much more willing to work out a payment plan when you communicate with us. Avoiding us or waiting until the last-minute to seek a payment extension is not in your best interest.
What if I have more questions? Stop by city hall Tuesday – Friday, from 7:30 a.m. to 2 p.m. or call (507) 743-5000. We're here to help!
City of Canton, Minnesota
City Hall is located at 106 N Main St., Canton, MN 55922
Phone: (507) 743-5000
Email: canton@acegroup.cc
The City of Canton is an equal opportunity employer and provider.